The UK's smallest bee. The females mainly collect pollen from bellflowers and nest inside woodworm holes in dead wood. The males sleep inside flowers.
Spirituality in Business
In today's profit-driven and competitive world, the need for spirituality has become more urgent than ever. We have lost our sense of connection, community, and purpose, and have become detached from basic truths, such as our oneness with nature. The oppressive systems created by corporations, governments, and select individuals have allowed for the exploitation of the world's resources, resulting in climate change, biodiversity loss, poverty, and other consequences that we must face.
In 2020, during our webinar series called "Positively Charged," I had a conversation with Jarvis Smith, the founder of My Green Pod, which made me realize the importance of reconnecting with my spirituality. Jarvis and his wife Katie have established MyGreenPod, a leading ethical marketplace in the UK, aiming to bring about meaningful change in various industries. Jarvis's mission is to infuse spirituality into the realm of business by promoting planet-positive enterprises and reshaping capitalism's narrative.
Integrating spiritual principles into business has the potential to foster a more compassionate, purpose-driven, and sustainable approach to commerce. After speaking with Jarvis, I reflected on my own journey and remembered how I had once been deeply connected to spirituality, energy, crystals, ancestral customs, and the cosmos. However, during my time in the corporate world, I had neglected these aspects as I focused solely on building my career instead of following my true calling. In this blog post, I want to shed light on the importance and transformative power of spirituality in business, particularly at Avallen, and how it has inspired me to contribute to creating a better world.
Spirituality in business helps us find meaning and purpose in our lives. When we infuse these elements into our work, we experience a deeper sense of fulfilment and satisfaction. It encourages us to question the impact of our actions and the values driving our decisions. By aligning our business goals with our personal values and a broader sense of purpose, we create an environment where our teams are motivated, engaged, and connected to something greater than profit alone.
The quest for meaning and purpose led Tim and me to create Avallen. It became a manifestation of our shared values, aiming to be the world's most planet-positive spirit brand. We aspire to inspire bartenders and citizens alike to pour delicious drinks with purpose. We recognized that we were agents of change within the drinks industry, which fuels our commitment to leading the way by promoting circular and regenerative solutions.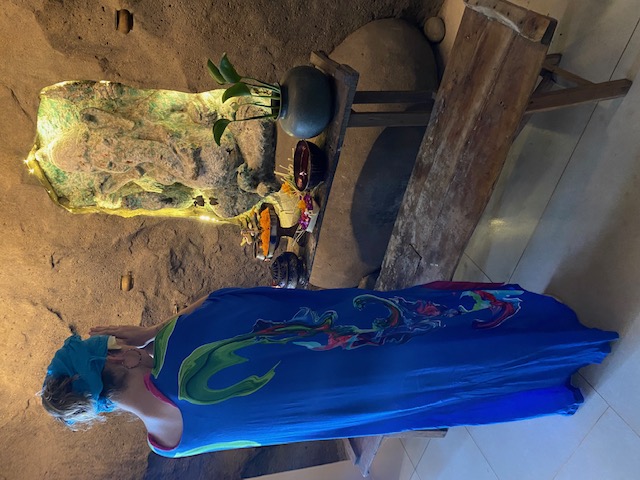 Spirituality also emphasizes the interconnectedness of all beings and encourages us to cultivate authentic relationships in business. At Avallen, we prioritize building genuine connections with our teams, customers, suppliers, and the wider community. We recognize that, just like the mycelium network, sharing knowledge and fostering collaboration contribute to the creation of a healthy ecosystem. As our friend Zee says, "It takes a village" to drive impactful change at scale.
An excellent example of nurturing authentic connections is our recent collaboration called the "Sustainable Spritz." We partnered with The London Essence Co., a premium mixer brand, and ecoSPIRITS, a low carbon, low waste spirits distribution technology, to create an ultra-low waste serve that eliminates single-use glass and tastes delicious. This collaboration showcases how genuine connections and shared values can shape the future of the industry.
Spirituality in business also calls for a shift in leadership paradigms. Conscious leaders embody qualities such as empathy, authenticity, and mindfulness, guiding businesses towards building a new world. They integrate sustainable practices into their operations, minimizing their environmental footprint and actively contributing to the well-being of future generations. By adopting renewable energy sources, reducing waste, and implementing circular economy models, businesses can play a crucial role in addressing climate change and ecological degradation. Spirituality in business promotes a harmonious relationship between commerce and the environment, safeguarding the planet for generations to come.
Since 2020, I have been part of a Spirited Business Group led by Jarvis. This group is dedicated to being the change through their businesses and beyond. We connect regularly for guided meditations, share our struggles, and uplift each other energetically. We also gather for bi-yearly retreats, utilizing constellations to resolve queries and support each other in breaking down barriers and embracing our true selves. These experiences have allowed Avallen to stay true to our vision and mission while attracting like-minded individuals to our cause.
Walking the spiritual path is a daily practice that involves meditation, mindfulness, yoga, moon circles, oracle cards, retreats, nature walks, and connecting with kindred spirits.
"The most authentic thing about us is our capacity to create, to overcome, to endure, to transform, to love, and to be greater than our suffering." Embracing spirituality in business allows us to tap into our authentic selves, creating a positive impact and contributing to a better world.
In closing, I would like to leave you with the words of Ben Okri:
Turn on your light
The new era is already here:
Here the new time begins anew.
The new era happens every day,
Every day is a new world,
A new calendar.
All great moments, all great eras,
Are just every moment
And every day writ large.
Thousands of years of loving, failing, killing,
Creating, surprising, oppressing,
And thinking ought now to start
To bear fruit, to deliver their rich harvest.
Will you be at the harvest,
Among the gatherers of new fruits?
Then you must begin today to remake
Your mental and spiritual world,
And join the warriors and celebrants
Of freedom, realisers of great dreams.
You can't remake the world
Without remaking yourself.
Each new era begins within.
It is an inward event,
With unsuspected possibilities
For inner liberation.
We could use it to turn on
Our inward lights.
We could use it to use even the dark
And negative things positively.
We could use the new era
To clean our eyes,
To see the world differently,
To see ourselves more clearly.
Only free people can make a free world.
Infect the world with your light.
Help fulfill the golden prophecies.
Press forward the human genius.
Our future is greater than our past.
© Ben Okri, 1999.
Found in Ben Okri, Mental Fight, Phoenix House: London, 1999.